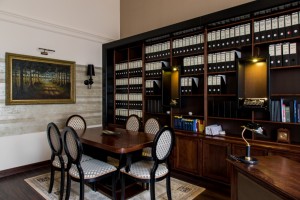 Our firm's professional profile comprises business law, corporate law, property law, labour law, trademark law activities, as well as high-standard representation in bankruptcy and liquidation proceedings.
The key area of our legal services is corporate law. We contribute to company registration proceedings, preparations for and the arrangement of the sales of companies, business shares. We act for the general and comprehensive representation of business entities, non-governmental organizations, local governments and other budgetary bodies.
Relying on our experience with a number of successfully concluded contracts, we also offer legal services in the world of real-estate property matters. We have a thorough knowledge of the particular characteristics of the local property market and regulatory environment. Beyond the documentation of transactions, we also act for representation vis-á-vis the authorities concerned.
In the field of labour law, we undertake to represent employers and in certain cases employees, draft managerial and general labour contracts, contracting agreements, stand for parties at dispute in labour litigations, and offer full-scale counseling services.
Our office has seen through the utilization of a number of trademarks registered with our involvement, and therefore is in possession of extensive experience in the field of trademark registration, patent law.
We perform our legal services both in Hungarian and English.
Specialized fields
Business law, corporate law
Drafting of contracts
Due diligence services
Representation in matters of business law
Counseling in issues of business law
Receivables management
Foundation, dissolution of companies
Restructuring of business entities
Legal due diligence of companies, consultation, counseling
Representation vis-á-vis the company registry court, tax and other authorities
Bankruptcy and liquidation proceedings
Representation of creditors
Representation of debtors
Contribution to the mediation
Property law
Drafting of sales contracts
Property swaps and exchange transactions
Voluntary conveyance
Land purchases
Lands leases
Counseling in other issues associated with property law
Labour law
Representation of employers, employees
Administration of the labour law matters of business entities
Drafting of deeds for the establishment, amendment and termination of labour relations
Drafting of managerial and general labour contracts, contracting agreements
Representation of the parties at dispute in labour litigations
Enforcement of labour damage claims
Drafting of non-competition and confidentiality agreements
Administration of group headcount reduction, restructuring, legal succession in employment
Trademark law
Representation in trademark-related, registration, extension, cancellation matters
Drafting of licensing contracts for trademarks
Representation in litigations in relation to the unauthorized use of trademarks